Welcome to Stony Brook, New York!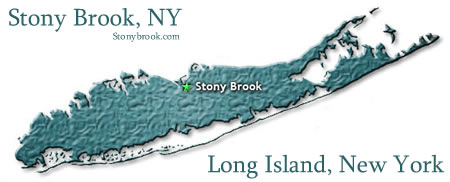 Situated on the prestigious North Shore on Long Island, NY, Stony Brook is home to numerous attractions, magnificent nature and historic grounds. The hamlet's population is a little over over 14,000. Some of Stony Brook's places of interest include the
State University of New York at Stony Brook
, The Stony Brook School, "Stony Brook Village", The Long Island Museum of American Art, History and Carriages, and The Stony Brook Medical Center. Only a short distance to the white sand beaches at Fire Island, the beautiful Hamptons resorts and the East End vineyards, the historic village lies at the geographic midpoint of Long Island, approximately 60 miles east of Manhattan and 60 miles west of Montauk Point, making it easily accessible from both directions. As part of the Three Villages, consisting of Stony Brook, Old Field and Setauket, the history of the town has been closely linked to that of Ward Melville, a local businessman who at one point owned most of the area. His idea was to create an idyllic New England type of village, with white clapboard and quaint stores, which can be clearly seen in the population center today.

Stony Brook offers a wide range of homes for every budget - from beautiful family homes to affordable rentals. The village's real estate combines the past and the present with its historical picturesque location and the energetic lifestyle, created by students and professionals.
Hotels

Whether you are visiting for business or leisure, Stony Brook offers a variety of package vacations and accommodations on its historic grounds. With 27 overnight guest rooms, the Three Village Inn overlooks the picturesque Stony Brook Harbor and provides banquet facilities for over 200 people.
Restaurants

Enjoy the great cuisine Stony Brook's many restaurants have to offer - from traditional American dishes to innovative Italian delicacies, all in a contemporary setting. With so many options to choose from there's something for everyone's taste.
Jobs

Stony Brook offers opportunities in diverse areas such as health care, administration, research, public safety and academia among many others. With more than 13,000 employees,
Stony Brook University
is Long Island's largest single-site employer.

Be prepared before you leave home; check the current weather conditions in Stony Brook, NY, and read the forecast.

The character of Stony Brook today has a lot to do with philanthropist Ward Melville who turned the local fishing community into a model New England Village, adorned by white clapboard, charming shops and Colonial Williamsburg homes. He later donated his land and money for the building of the State University of New York at Stony Brook.
Yellow Pages

Search the Stony Brook, NY Yellow Pages to locate businesses and listings for everything you need - from hospitals and dentists to movie theaters and restaurants. Find maps, contact information, directions and more!
Advertisements

Stony Brook Weather




Stony Brook Sources

Quick Stats

People in Stonybrook, NY
Population
13,880
Pop. Density
2414.4
Pop. Change
1.11%
Median Age
40.2
Households
4,862
Household Size
2.77
Male Population
48.50%
Female Population
51.50%
Married Population
69.65%
Single Population
30.35%
Ethnicity - Stonybrook, NY
White
90.06%
Asian
7.44%
Black
1.55%
Other
1.39%
American Indian
0.02%
Hispanic
3.04%
Non-Hispanic
97.54%
Education Stats - Stonybrook, NY
School Expendatures
$11,461
Pupil per Teacher Ratio
14
Students per Librarian
1024
Students per Counselor
437
2 yr College Graduates
7.43%
4 yr College Graduates
23.67%
Graduate Degrees
30.80%
High School Graduates
94.59%
Economy in Stonybrook, NY
Unemployment Rate
3.50%
Recent Job Growth
-0.71%
Future Job Growth
14.05%
Sales Taxes
8.75%
Income Taxes
7.13%
Income per Cap.
$42,445
Household Income
$99,218